kids to the rescue archives

Kids To The Rescue worked with the Salvation Army to raise money for Haiti Disaster Relief by manning red kettles at the Minnesota Vikings/Dallas Cowboys playoff game.
January 17, 2010 – Minneapolis, MN - Salvation Army kettles were placed around the Metrodome today from 10 a.m.–12 p.m., before the Minnesota Vikings playoff game against the Dallas Cowboys, for a special two-hour effort to raise money for Haiti disaster relief. The kettles were staffed by local Kids To the Rescue volunteers.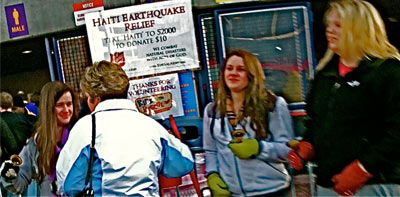 Sophia Hoekstra, Rachel Floeder and Kelly McQuillan man one of the many Salvation Army red kettles at today's Vikings / Cowboys playoff game at the Metrodome. KTTR volunteers and The Salvation Army came together to collect donations to help the victims affected by the earthquakes in Haiti.
Kids To The Rescue volunteers raised more than $7,530 manning eight kettles, at eight gates over the two hour period. Kettles were stuffed to the brim making all the volunteers that helped today feel great about their efforts. If we had one problem today it was that we didn't have enough kettles! Many Vikings and Cowboys fans were in a giving mood and we thank each and every one of you!
One hundred percent of all donations received will be used to fund The Salvation Army's massive relief effort in earthquake-ravaged Haiti.
Check out the photos from the event - click here.
Read the original Salvation Army Press release, click here.
To keep up-to-date with The Salvation Army's efforts in Haiti: click here.
To make an online donation to Haiti relief: click here.

Return to archive index