kids to the rescue archives

KIDS TO THE RESCUE HELPS OTHER KIDS DELIVER MUCH NEEDED SUPPLIES
March 8, 2006 – Chokio, MN: Kids To The Rescue helps other kids deliver much needed supplies to kids who need them most. John Mithun, a 6th grade teacher at Chokio-Alberta Elementary, located on the western edge of Minnesota and his class collected school supplies for children in any elementary school that lost its supplies due to Hurricane Katrina.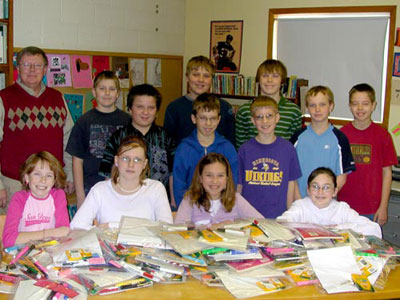 John said, "We are doing this as a project for 100's day which is today in our school year. We have collected 100 kits of school supplies. I have 12 students in my 6th grade class. We are a small school, total students in the elementary is 87. Instead of buying Christmas presents for each other in the room we used that money to buy school supplies for a school down south. Each kit is made up of a couple pencils, pens, erasers, magic markers, a box of crayons, and some tablet paper.
We then took gallon zip lock bags and put the supplies in them. So we have 100 school supply kits that can go to some school that lost its supplies." The supplies are being shipped to Delisle Elementary School Kiln in Pass Christian, Mississippi.
"Mr. Mithun and your 6th grade class, as 6th graders too, we thank you with our whole hearts! Thanks for being Rescue Kids!"
-Rachel and Audrey

Return to archive index